All Natural Pest Management Solutions
At Nature-Cide we strive to provide our customers with all-natural green environmentally friendly and effective products for the control of insects while repelling rodents, reptiles and various birds. The Nature-Cide product line was created by a California Licensed IPM (Integrated Pest Management) service company.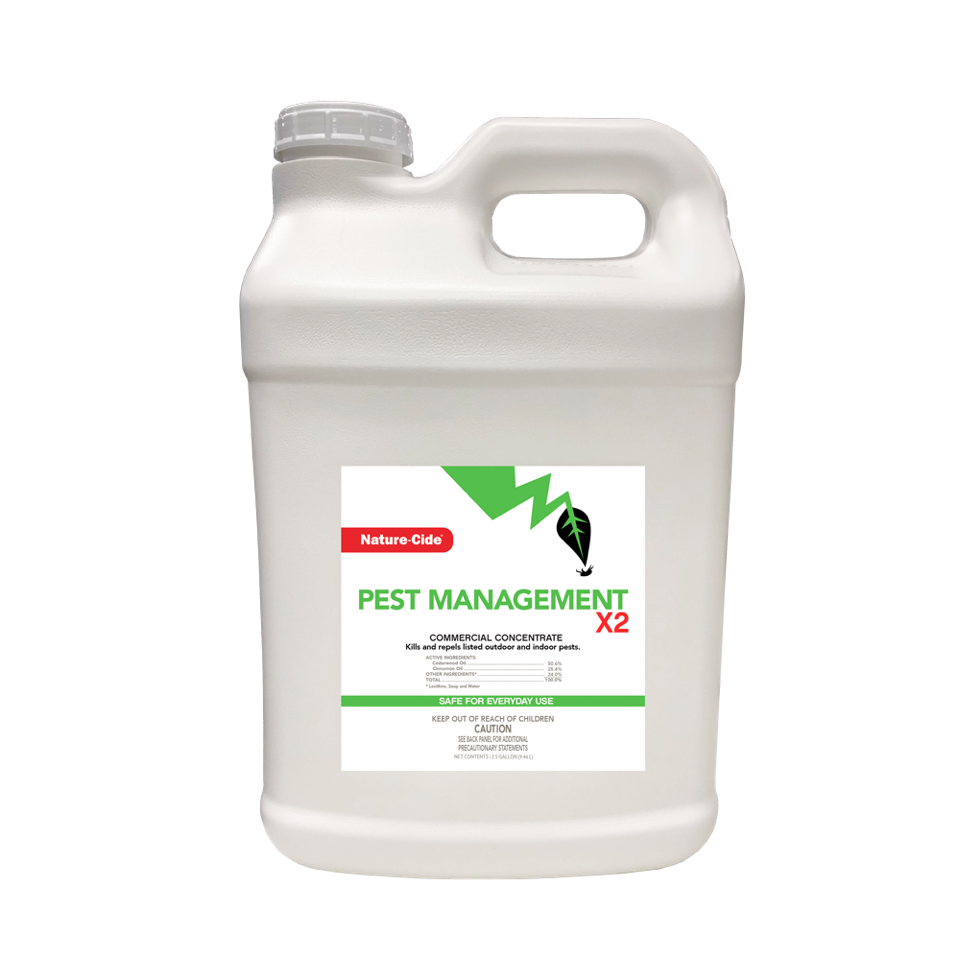 PROVEN
Third party laboratory tests prove their effectiveness.
REGISTERED
Registered with the state EPA offices in the 39 states that require it.
TRUSTED
Trusted by over 1,000 independent Licenced Pest Control Companies and growing.
MITIGATE
Helps Pest Control Companies mitigate risk by eliminating pests with the same efficiency without using dangerous chemicals.
FLOURISH
Using Nature-Cide and other integrated pest management practices allow the ecosystem and environment to flourish while treating a property.
REPUTATION
Empowers pest control companies and their clients by allowing them to avoid reputation and public attention by addressing problems without unnecessary business interruptions.
BRAND LINEUP
Pest Management X2 Concentrate
Designed to control and repel insects from returning to your property. The formulation is made from 100% natural ingredients and leaves a light pleasant aroma. Nature-Cide Pest Management X2 is proven effective in the field. It is recommended when treating exterior for the control of fleas, ticks & mosquitoes. In addition to control, Pest Management X2 also repels snakes, rodents and many insects such as ants, bedbugs, cockroaches, fleas, mosquitos, stink bugs, ticks, and many others.
Nature-Cide All Purpose Concentrate has been formulated to manage a variety of listed pests for both residential and commercial use. Unlike most 25B exempt products, All Purpose Concentrate has a light pleasant aroma. Nature-Cide essential oils are all listed on the National Organic Program approved products list. The 25B exempt label allows the PMP to treat sensitive areas such as: Mattresses, bedding, furniture, food processing, nursing homes, day care centers, hospitals, Zoo's and so much more. Nature-Cide All Purpose Concentrate is proven and effective to kill on contact: Spiders, Silverfish, Cockroaches, Earwigs, Bed bugs, Moths, Stink Bugs, Mites, Flies, Fleas, Ticks, Caterpillars, Ants, Mosquitos, and Hornets.
Nature-Cide Insecticidal Dust
Nature-Cide Insecticidal Dust kills bed bugs, fire ants, fleas (egg, larval and adult stages), German cockroaches, house flies, Pharaoh ants and ticks (nymph and adult stages.) Repels all stages of fleas and ticks (nymph and adult stages) for up to 11 weeks. Nature-Cide Insecticidal Dust can be used indoors on carpet, upholstery, pet bedding and outdoors on exterior walls where listed pets enter.
Nature-Cide Granular is an all-natural granular insect control for turf, lawns, bedding, exterior perimeters and additional listed locations designed to kill and deter crawling insects, including emerging larvae, while repelling rodents (including Voles) and Reptiles.
PEST CONTROL & HEALTHCARE DISTRIBUTION
© 2023 Med-X. All rights reserved.