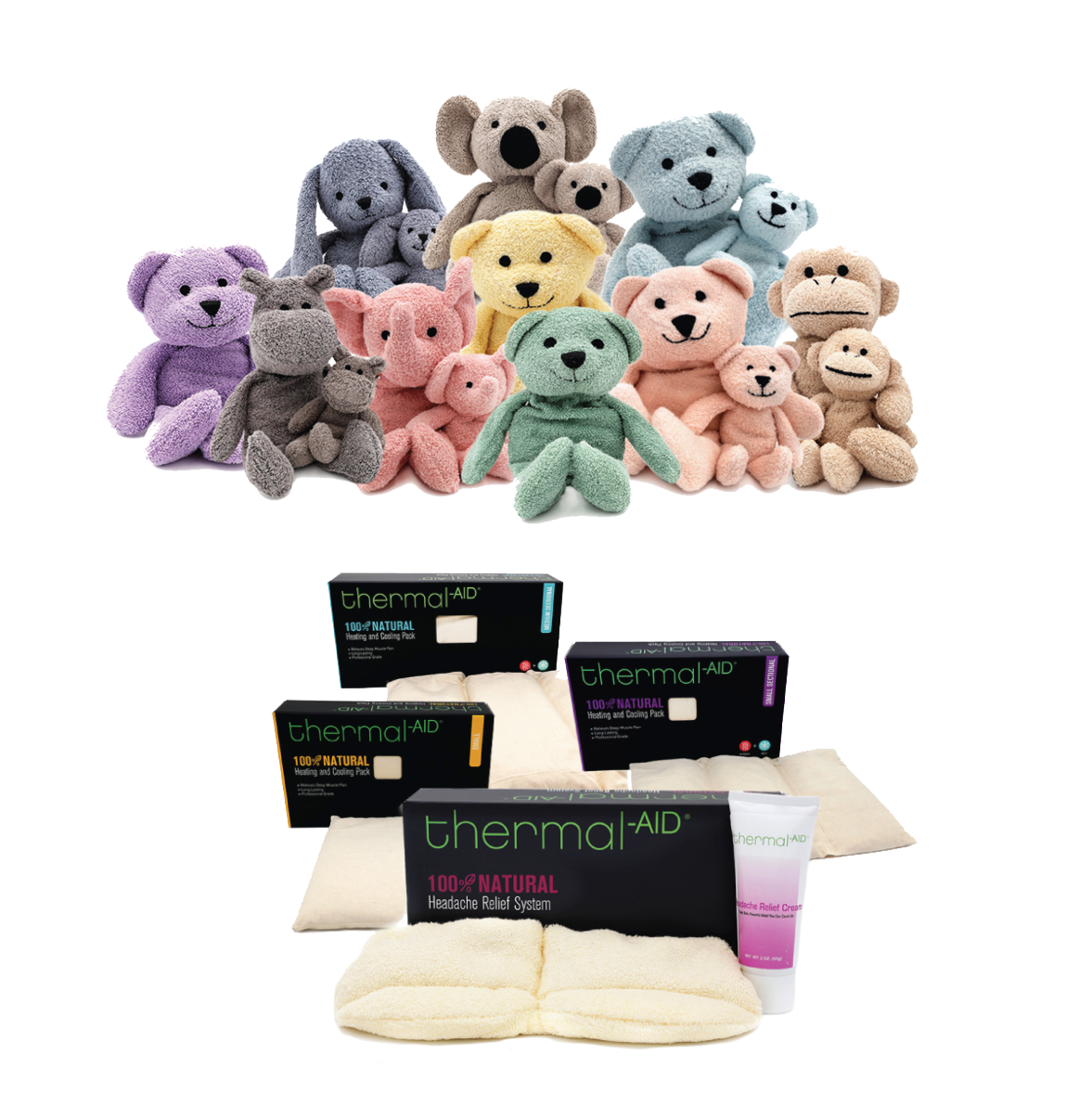 PROVEN
Third party laboratory tests prove their effectiveness.
PATENTED
Company holds multiple patents on the Heating and Cooling technology used in the Thermal-Aid products.
TRUSTED
Trusted by tens of thousands of parents, athletes, and physicians.
MOLD RESISTANT
Patented technology in the products reduce the growth of mold which is common in other heating and cooling packs.
REDUCE DRUG INTAKE
Clinical trials prove a 20% decrease in pain medication intake in Arthritis patients.
POSITIVE REVIEWS
Hundreds of positive reviews on Amazon.
BRAND LINEUP
KID APPROVED ANIMAL DESIGN | Made from 100% cotton, your child will love to hug this cuddly stuffed blue bear whether they need a cold ice pack or a warm compress.

HEAT AND COOL | This blue bear toy can be kept in the freezer to be used as a cooling towel kids ice pack for boo-boos. Additionally, warm it up to use as a microwavable heating pad.

SO MANY USES | Use after being outside in the heat and bugs, when cold season shows up, after a fun (but tiring) day at the park, and so much more.

NATURAL FILLING | With a patented, doctor-developed process, the natural corn filling is mold-resistant and will hold a steady temperature for up to 45 minutes.

FIRST AID ESSENTIAL | Thermal-Aid animals are pregnancy must-haves when stocking a baby first aid kit, for newborns and toddlers. These natural ice packs can provide tooth pain relief and injury relief throughout childhood.
Thermal-Aid Heating and Cooling Packs
ALLEVIATE PAIN IN HANDS, BACK, HEAD, KNEES AND NECK | No matter what happens throughout the day, this heating pack can soothe your tired muscles. Back pain relief. Headache relief. Wrist strain. Neck pain relief. Knee pain relief. This pack can handle it all.

WARMING RELIEF | This portable heating pad fits perfectly on medium-sized sections of your body, over your knee and behind your back. Three minutes in the microwave for up to 45 minutes of warming comfort.

COOLING PAD | With a 100% cotton cover, you get a cooling towel texture with a flexible shape. Get the soothing relief you need, exactly where you need it.

NATURAL AND SAFE | Our engineered corn filling is a patented, doctor-developed process, that alleviates mold, fungi and foul odors often associated with other natural heating/cooling products.

FIRST AID KIT ESSENTIAL | Versatile ice pack for injuries, reusable and ideal for backpack kits. Wipe the pad clean and keep as a valued part of your first aid kit.
Thermal-Aid Headache Relief System
PAIN RELIEF KIT | The Thermal-Aid Headache Relief Kit includes a topical analgesic, Thermal-Aid's Headache Relief Cream that is applied directly to your forehead. Additionally, a Cold Press Eye Pack that blocks light and applies subtle pressure to ease forehead and temple tension.

COOLING EYE MASK | To get natural anxiety relief, reduction in stress and allergy relief, cool the mask in the freezer and use as an all-natural pain relief.

NATURAL FILLING | With a patented, doctor-developed process, the natural corn filling is mold-resistant and will hold a steady temperature for 45 minutes.

3 PART PROCESS | Apply analgesic cream -- increase cooling pressure -- rest eyes in a quiet and dark location.

CLINICALLY PROVEN | Created by a Board-certified Neurologist, the 3 part process of the Thermal-Aid Headache System is clinically proven to relieve tension and migraine headaches.
PEST CONTROL & HEALTHCARE DISTRIBUTION
© 2023 Med-X. All rights reserved.